One of the battles we all face when renovating our home is finding our style & sticking to it. Whether it be a full home renovation or a seasonal refresh, without careful planning and consideration, your end product can very easily turn out just a little… lets say, mismatched.
When we look at taking on a project, the first thing we should ask ourselves is "what is my style?". With many different design trends out there this can be a little overwhelming. We have put together a list of points to help you find the right aesthetic for your next project!
Main design trends of 2019/2020
It is important to remember that for your house to feel like a home, you need to use the following design trends as more of a guide then take them as gospel. Researching these trends in order to inspire your style should be exactly that…inspiration. It is also important not to feel pressure to replicate these styles exactly as realistically, they may not practically work in your home.
There are so many different interior decor styles out there, and you may find that yours is a blend of a few. We have listed some of the most popular design trends for 2019/2020 and explained what makes them stand out!
Bohemian – Often shortened to Boho, this style is often inspired by the 1960's & 1970's. Boho interior decor focuses on earthy tones with typical 60's & 70's pops of color. Quite often you will find mostly greens, browns & mustards with the use of natural materials prominent. Whilst embracing worldly patterns & fabric designs, Boho rooms are never the same as each other, often boasting an eclectic collection of furnishings.
Minimalism – Whilst looking for inspiration for a minimalist home, you will often find that most lovers of this style embrace it not only in home design, but also in lifestyle. Minimalism is a sure fire way to create an open airy feeling regardless of the space you have available. Colors are mostly white or white variations, with furnishings boasting sleek and modern design. It really does what it says on the tin.
Scandinavian – Most people have heard of Scandinavian style from IKEA, one of the biggest sellers when it comes to Scandinavian style furniture. Scandinavian style embraces minimalism but generally also incorporates elements of nature. Focusing extensively on functionality, this design style is often quite practical for modern day life.
Industrial – Often popular in modern housing, the industrial style uses minimalism in combination with exposed metal furnishings, along with white, grey & black being the main focus colors.
Mid Century Modern – One of the most popular trends of this year, creating the optimum blend between the old and the new. Furniture is designed using modern materials & sleek lines whilst keeping traditional principles in mind.
How to find inspiration
When on the journey to discover your style, you may find that with a quick bit of googling you will come across all sorts of quizzes claiming to be able to tell you your aesthetic if you just answer 5 simple questions. Now, you may find that these do give you some sort of guide (and for sure, there are some more detailed quizzes out there) but the internet is a pretty big place, there are lots of more exciting places to find inspiration.
Websites such as Instagram and Pinterest are a great modern solution to the Interior design magazines you would find on the shelf. With endless images showcasing some of the most beautiful homes, you will easily find yourself in a rabbit hole of stunning home design inspiration.
Make a inspiration/mood board
Obviously color is one of the main things to consider when you are decorating any room in your home. With Interior design trends boasting all varieties & somewhat clashing opinions of which colors make the ultimate home, it really does depend on your space, personal style & needs.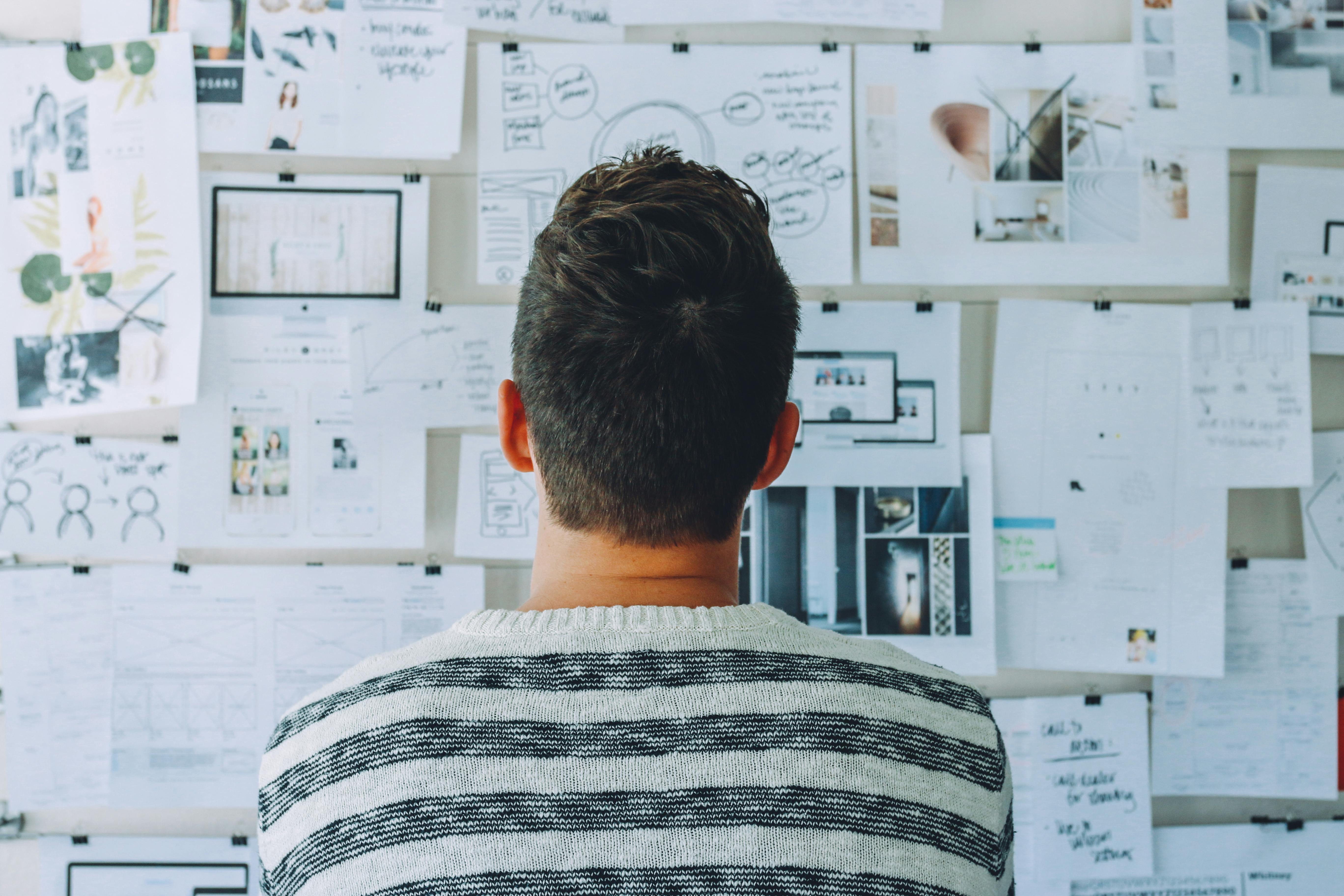 Some key things to consider when choosing your colors:
We recommend choosing 3 – 5 Colors that are consistent throughout your design (This includes everything from wall paint to throw cushions). Although this is a hard and fast rule for most design trends in recent years, you may find that your style is one of the few that embraces a more colourful eclectic finish, if this is the case then go for it, remember that you are creating your own style here!
Remember to consider the light you have in your space. You may find that a lot of the inspiration you find during your research uses colors that are not practical for your home. For example, you may find that you love the look of Navy Blue walls, but you have little to no natural light making this an impractical option. In a case like this, you could consider using darker colors as accents in your room's accessories rather than as a wall paint.
You can use some of the inspiration resources we previously mentioned such as Instagram & Pinterest to create your mood board. As much as we all love a bit of arts & crafts, it's a great idea to keep all of your inspiration together digitally, this will help you to stick to your theme when it comes to shopping for your items. As well as your main color choices, you should also include in your board, any pieces of furniture you find during your research. As the whole process can be a little overwhelming with thousands of images you may come across, this will really help you to stick to the plan.
Functionality & Space
It's really important to think about the functionality of your space and how your aesthetic fits into this. For instance, if you have a small space to work with, maybe it is wise to consider a more minimalistic approach to design in order to avoid clutter. 
Consider what you need out of your space. Remember that this is your home, it needs to be fit to your everyday needs. Are you trying to design a small bedroom or a large office space? These rooms can have very different requirements when it comes to furniture size, style & functionality.
Useful Reference Links
Interior Design Style Quiz
10 Interior Design Style Quizzes
6 Simple Secrets to Finding Your Personal Home Decor Style