There are now many households that are starting to embrace the green solutions in their homes and this is done because of their quest to reduce their electrical expenses or their carbon footprint.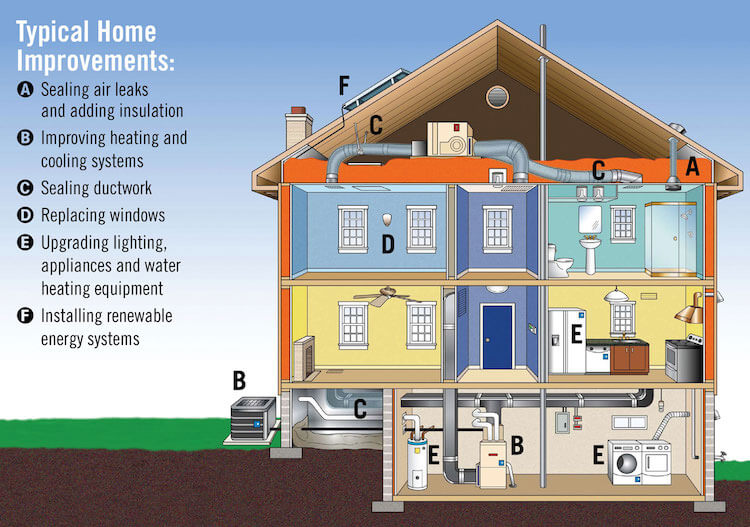 With the ever-evolving technology, there are various approaches that have been tapped and developed into pro-environment homes and structures. These days, ecological awareness is the in thing to do. One of the areas of focus for technological development is the reduction of energy consumption.
The Benefits of Green Homes
There are now many ideas in building energy-efficient homes. Such ideas include rearranging furniture inside the room so that ample natural lighting and ventilation are achieved; and complex ideas like setting up solar panels or wind turbines that can generate natural energy. Building concepts that make use of the right materials can provide the right temperature in a house.
A few use the ancient architectural strategies like rammed earth structures that offer the most comfortable living conditions while keeping an aesthetically-pleasing design. Homes that are created from rammed earth materials almost have the same price as solid masonry; plus, you get to save more in the process because it requires less maintenance and is durable.
Apart from this, buildings that were erected out of this material remains warm winter and cool in the summer season. It effectively reduces energy costs when electrically powered HVACs are used. Also, pests such as termites will never be a problem because the materials used are resistant.
Builders, architects and electrical contractors; these days, us up-cycling and recycling.
Things to Consider in Building Energy-Efficient Homes
Site selection: It is always best to, first, consider the location for your new home. Build the house near public transport routes, your workplace, schools, church, groceries, etc. This way, your travel time and gasoline cost will be greatly reduced.
Ask your local electrician on how you can allow solar heating to be installed inside your new abode.
An ideal site for green homes is a place where a lot of trees are located. The wind coming from the trees minimize heat loss.
Building materials: Green homes need to use building materials that produce the lowest impact on the environment. The materials used must be able to withstand the most severe weather conditions.
Ventilation: It is during the summer that high energy wastage is at its highest so ask your builders and electrician on how to best ventilate your home. Summer heat can be a major concern in many places so find out how you can set up an air conditioning unit to help make the place feel cooler during these hot months. If you want to save on electrical costs, ask how you can set up fans, air ducts or heat exchangers.
Insulation: Higher levels of insulation are needed to reduce heat loss. This is why insulation must be properly set up around homes and buildings. Foundation slabs and walls also need insulation to enhance energy efficiency.
Lighting and appliances: Ask an expert electrician on how to use energy-saving lamps and fittings inside rooms in your home. Though compact fluorescent lamp or CFL costs more than incandescent bulbs, it can allow you to save more on your energy bills in the long run.
In buying appliances, make sure that you choose only the models with Energy Labels to ensure that they are energy efficient. By now, you probably realize how important it is to ask your electrician – not just about wiring systems but also – about the codes and guidelines in achieving a green home. Without this expert's help, it is a lot more difficult for you to realize your desire to own a green home.